DACHSER Career Management - Career planning for young professionals
DACHSER Career Management furthers the qualifications of every employee through targeted further and continuing education. Developing and strengthening the particular assets, interests and talents of each individual is a central pillar of DACHSER's corporate culture. As part of its well-established employee development, DACHSER designs tailored career paths within the company.
Employees benefit from a commitment to the highest quality employee development. Human Resources Development prepares future specialists and managers for their career ahead with tailored training courses and challenging project work based on in-depth potential analysis. This is done at both a national and an international level. Assignments abroad also serve to strengthen the professional, linguistic and social capabilities of employees.
At DACHSER, no talent stays hidden: All employees who are willing to challenge themselves to improve a little bit each day in order to move their careers forward are offered excellent career prospects. DACHSER offers an attractive working environment with long-term prospects and excellent opportunities for professional development in a global company network. Upon completing a phase of practical experience, entry as a young professional after vocational training and/or university studies is followed by further, highly professional career planning support as part of DACHSER Career Management.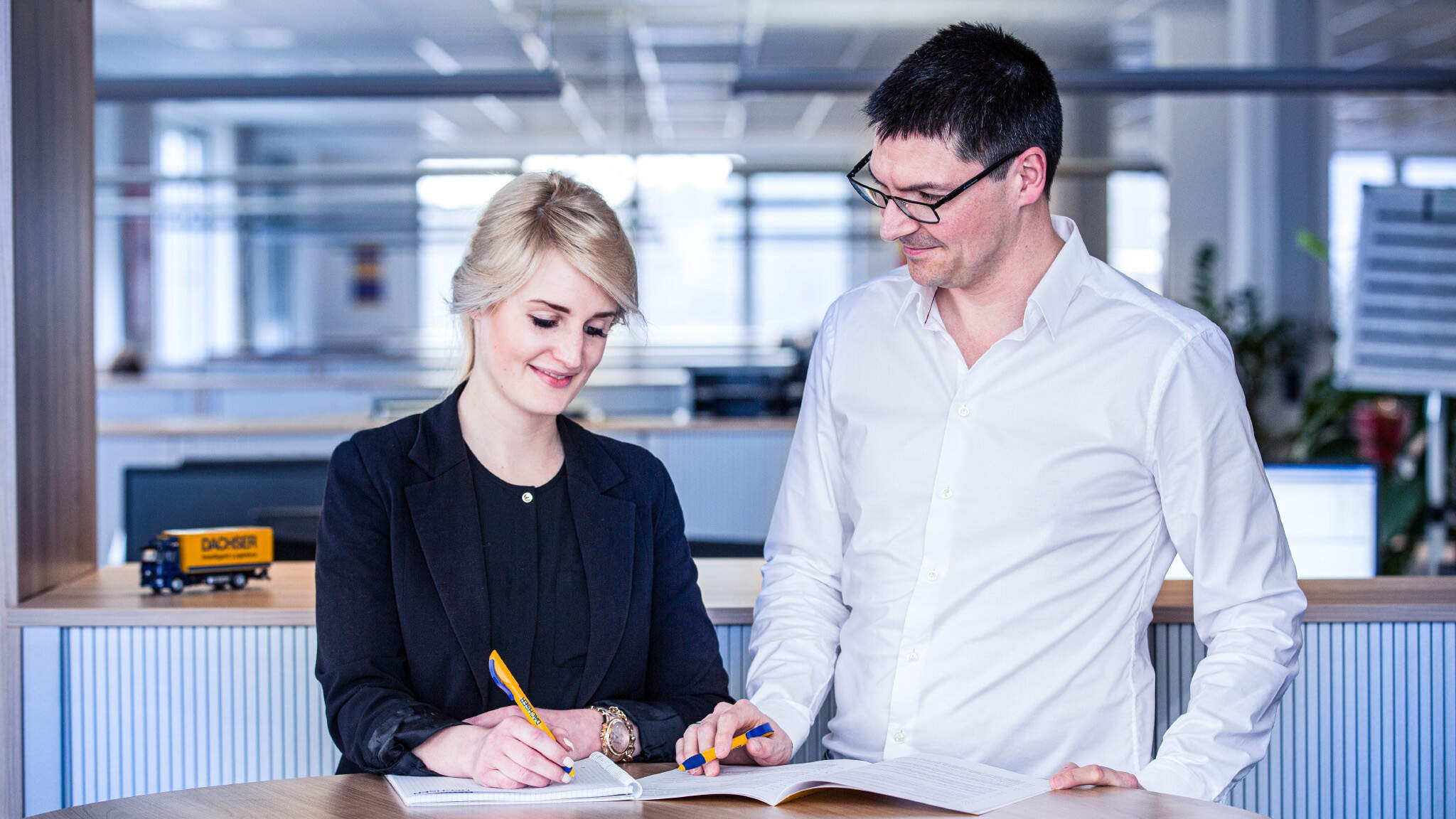 Vocational programs and part-time study courses open up new horizons
Part-time continuing education plays a central role within the Career Management scheme. The desire to keep learning over a whole lifetime is a basic requirement for professional success in the logistics industry, which is characterized by innumerable innovations and technical improvements. With vocational programs or part-time degree programs, employees can drive their own careers forward in a targeted way. For example, external training courses from the German Academy of Foreign Trade and Transport [DAV, Deutschen Außenhandels- und Verkehrs-Akademie], as well as Bachelor's and Master's programs or professional training as a business administrator or economist (e.g. for transport administration) are particularly attractive. Furthermore, the DACHSER Academy takes care of internal ongoing training.
Language courses increase the opportunities for professional advancement
Solid language skills further not only the careers of individual employees but also the success of the company. Ultimately, the language skills of each individual are the basis for seamless, confident communication with international clients. Through targeted on-site training courses (language courses) or language study travel, DACHSER prepares its employees for the day-to-day challenges of working internationally.
DACHSER Career Management promotes advancement
Strengthening capabilities: Part-time degree programs and continuing education measures, potential analyses, training courses and project work support the professional and social development of the employees.
Performance pays: At DACHSER, talents are recognized early and supported. Engagement and strong ties to the industry, a marked ability to work in a team and the will to develop yourself further – these are the best prerequisites for a successful career at DACHSER.
Individual career planning: With the help of tailor-made development plans, adapted to suit their personal interests and skills, employees grow into positions of leadership.
Strong culture of "we": The ethnic and cultural diversity of DACHSER employees and their broad range of experience and talents make it possible for us to learn from one another, collaborate across boundaries and be successful together.
Attractive working environment: DACHSER offers committed employees long-term, tailor-made career prospects with leadership paths both domestically and abroad, or specialist careers in specific areas.
Experience abroad: Working in other countries and experiencing the habits and customs of foreign cultures broadens one's horizons and enables a career at an international level.
Access to comprehensive training opportunities at the DACHSER Academy.