DACHSER offers company careers with family roots
As a globally engaged, family-owned enterprise with German roots, DACHSER holds a special position within the logistics industry. While the company maintains professional corporate structures, it also offers employees a tolerant working environment with a human touch, in which everyone is appreciated. Anyone who works for DACHSER automatically feels part of a large, global family, regardless of their location or function. Each individual is able to reach their full potential in an inspiring, challenging and supportive work environment, surrounded by professional colleagues, and rely on a strong, loyal employer which recognizes and promotes talent.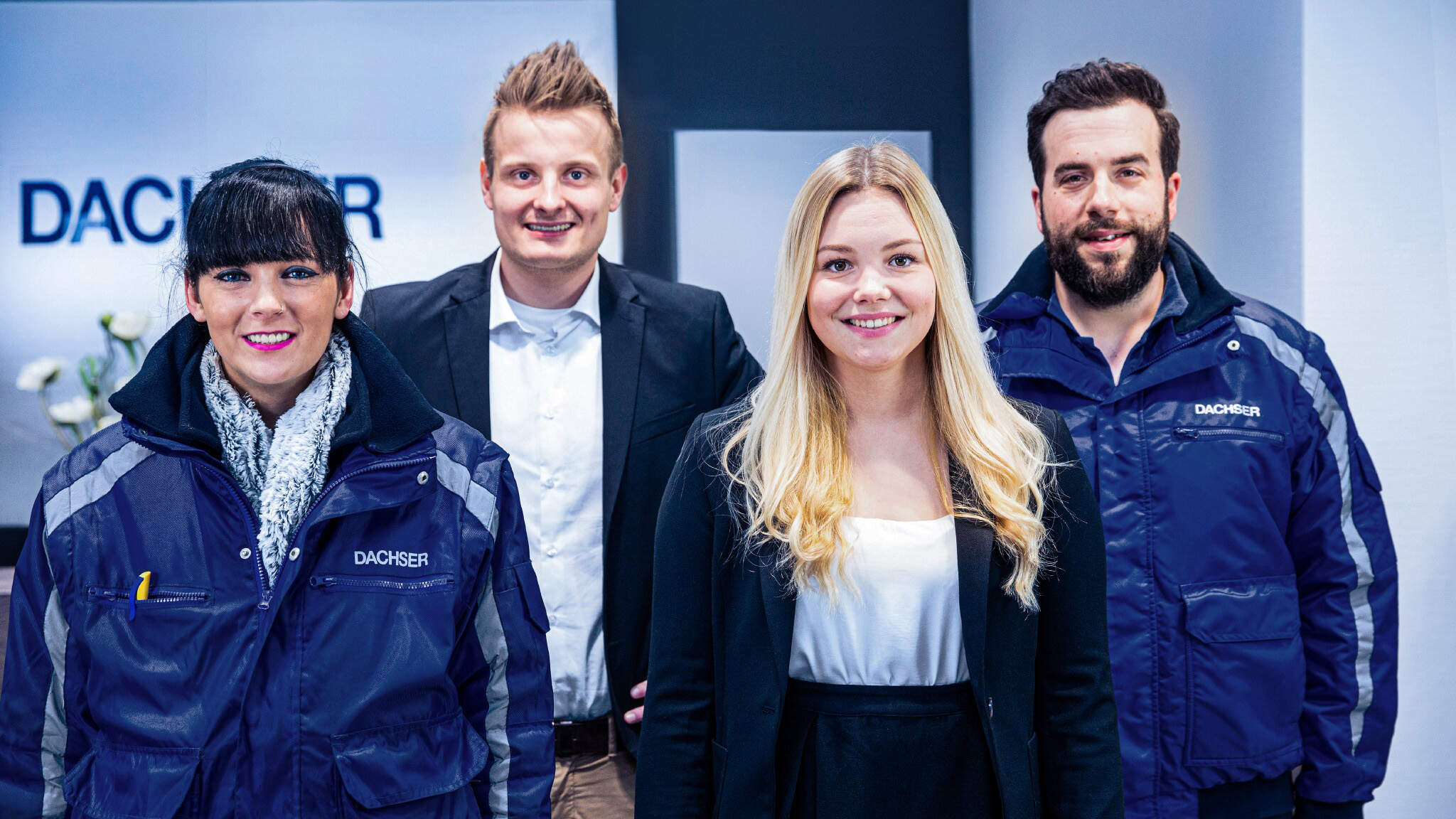 Founded on lived, common values
This cohesion is based on lived, common values. As well as being respectful of foreign cultures, DACHSER employees are united by the joy of working in inspiring and enthusiastic teams to serve the customer. With exceptional commitment and individual responsibility, they play an essential role in maintaining high levels of logistics performance and customer satisfaction. At the same time, employees can rely on the efficient, structured processes of the individual transport services within the DACHSER network.
Achieving more together: At DACHSER, people with widely varied nationalities, backgrounds, professional training and experience come together and interact. All of the capabilities complement and strengthen one another, raising the level of our logistics performance. The success of our teams, based on respectful cooperation, is the strength of the DACHSER network. Committed personnel development supports employees in their career planning. This includes tailor-made career management as well as participation in various opportunities for continuing education at the DACHSER Academy in Cologne.
DACHSER employees as entrepreneurs within the company
Above all, DACHSER looks for employees who see themselves as entrepreneurs within the company. They are highly motivated, are characterized by their independent, creative thinking and behavior, and have a strong interest in foreign countries and cultures. In order to optimally develop the personal strengths of each individual, DACHSER relies on individually tailored programs designed to promote professional and personal skills.
What awaits employees at DACHSER
Family atmosphere: People are central. As a result of our decentralized organization, employees work in small teams with loyal and professional colleagues who all feel part of the global DACHSER family with its particular DACHSER DNA.
Respect: The corporate culture, especially interactions among team members and with people from foreign cultures, is characterized by mutual appreciation and respect.
Exemplary teamwork: The diversity of characters and varied experiences of our personnel complement and support one another. Building on efficient processes and collegial collaboration, this leads to the best possible results.
Inspired teamwork: The diversity of characters and experiences make for a well-rounded staff who are able to work creatively and solution-oriented.
Trust: DACHSER promotes employees' personal responsibility and fully trusts in their capabilities.
Continuing education: Numerous internal and external training and continuing education programs, as well as part-time degree programs, strengthen employees' professional and personal capabilities and create the basis for individual career planning with long-term prospects.