In logistics, the pandemic is making dispatch processes more complex, especially for sea freight. As Ocean Freight LCL Manager Asia Pacific, Carolin Choy sees these challenges as opportunities. Luckily, she has a hobby that helps her.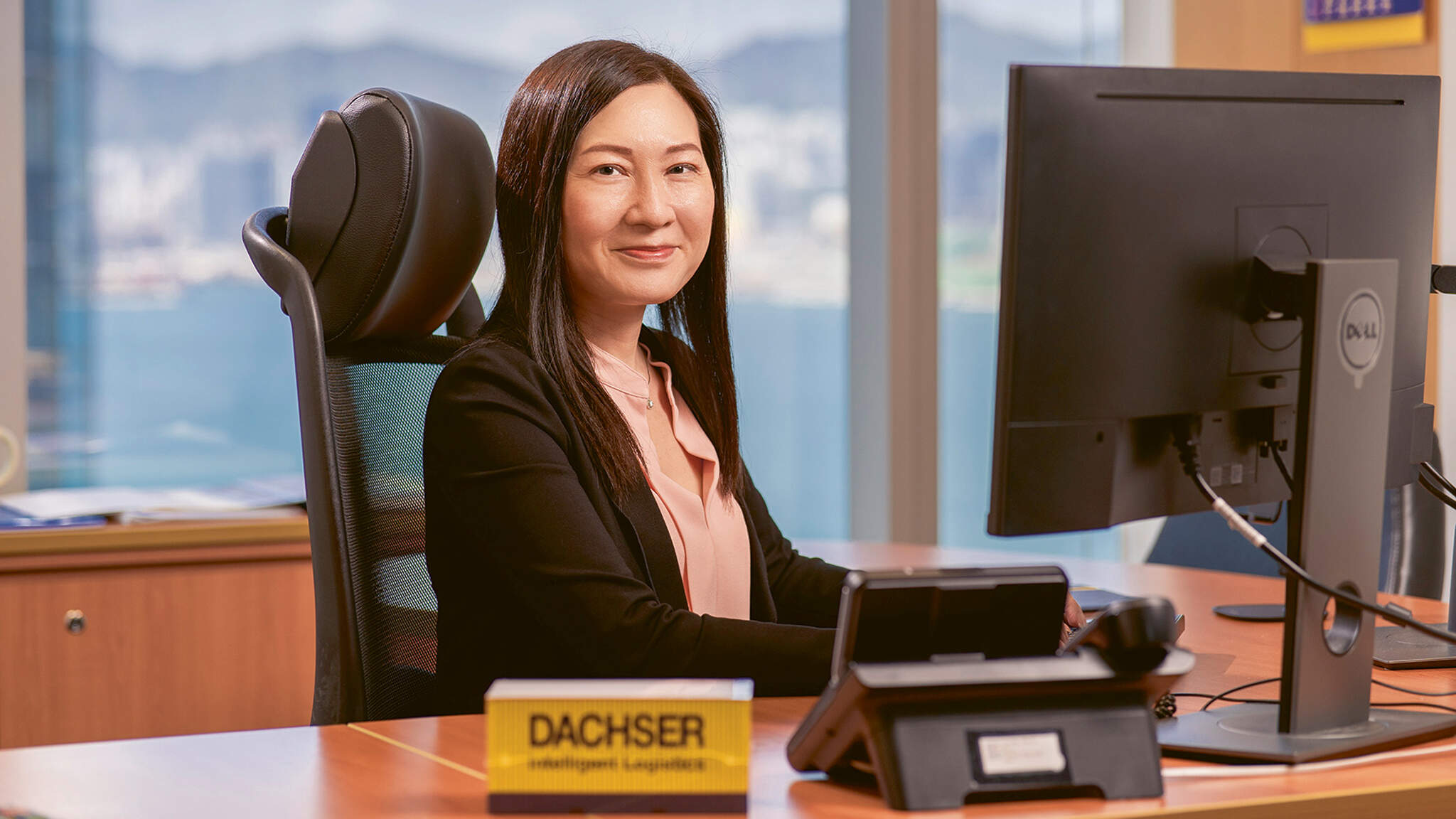 Carolin Choy is an avid runner. On a good day, it takes her just over an hour to complete her favorite eight-kilometer route in Hong Kong. "Running is good for the body and refreshes the mind, getting it ready for the working day," she says. Naturally, being such a dedicated runner has taught her a thing or two about endurance. This is precisely what helps this DACHSER Ocean Freight LCL Manager through challenging times, such as those the sea freight business is currently experiencing.

The pandemic and the changes it has brought have turned the work Choy does upside down. Supply chains are constantly being interrupted, port closures have become commonplace, and higher transport costs are here to stay. In addition, face-to-face contact has largely given way to online meetings. "Times are tough right now. Our customers expect us to provide a high degree of flexibility and reliability so that they can successfully develop their business," Choy says.

The good news is that she has a strong team behind her, and everyone benefits from her positive attitude: "I always say: be part of the solution, not the problem. And for every problem, there are multiple solutions. Thanks to our exceptional team spirit, we find the best solution practically every time."

Choy's scope of responsibility includes more than ten high-volume Asian countries, from China to the Indian subcontinent. "These countries differ massively in terms of culture, price structure, customer behavior, and transport infrastructure, so we always have to be flexible and innovative," Choy says.
Shouldering responsibility
It was this challenge that motivated Choy to take the position of Ocean Freight LCL Manager at DACHSER three years ago. She's been working in the logistics industry since 1998, during which time she has gathered a wealth of experience in everything from sales to key account and operational management. Choy gained many of her fascinating insights in Hong Kong, an international hub with connections to places all over the world. "When managing major customers, I was on the move a lot. Through my trips to Europe, Asia, and the US, I've become familiar not only with different market segments, but also different cultures," she says. This is also where she learned how to be a leader. At DACHSER, Choy was to reap the benefit of these and similar experiences.

She feels she has now really found her place at this family-owned company. "DACHSER gave me the opportunity to continuously add to my knowledge and skills, and grow into the person I am today. I'm in the driver's seat, so to speak, and am in a position to effect some real change." A glance at the latest business figures motivates her even more: in 2021, the Asia Pacific region recorded an impressive 34 percent increase in LCL export volume. For Choy, a key part of her job is the regular, focused exchange of ideas with colleagues and customers about best practices in the logistics business. "It's often a great deal of fun."

LCL is an attractive segment of sea freight transport and one that's becoming more and more popular, especially among small and medium-sized customers. LCL stands for "less than container load" and LCL sea freight containers carry products being shipped by different customers. DACHSER markets what it calls "consolidation boxes"—customers pay only for the space they actually occupy in the containers. Also dubbed "groupage of the seas," this service is proving popular among customers. One of Choy's responsibilities is to expand the LCL service. DACHSER currently offers its consolidation boxes on more than 100 trade corridors, and that number is set to rise.

Sustainability plays a role here as well. "Climate protection is a major topic in logistics. Unused capacity serves only to produce unnecessary emissions; in addition, it is uneconomical because it impairs export volume," Choy says. "LCL helps us achieve our goal of maximizing container utilization, which in turn makes logistics more sustainable." This can prove challenging from time to time, and has certainly been the case over the past two years. But Choy reports that her team always finds a way to keep things moving. "Our flexibility, and the fact that we can count on our robust, global network, means that our customers can successfully shape their business even when times are tough," Choy says.

She shoulders a lot of responsibility in a number of different areas, including profit management, volume development, and product enhancement. "DACHSER has signed long-term contracts with those carriers that guarantee a high level of service quality and price stability. This benefits us and in turn also our customers," Choy explains.

What Choy really enjoys about working at DACHSER is the sheer diversity of tasks and topics: "Overcoming challenges gives me a tremendous feeling of satisfaction. Especially in these difficult times, working in logistics is like being on a long-distance run. With the right attitude, passion, and hard work, you can achieve almost anything."