"Electromobility is a topic that concerns everyone"
The eActros, one of the first battery-electric production vehicles from Mercedes-Benz, is now in use at DACHSER. As the partner responsible for field testing, the logistics provider was heavily involved in developing the electric truck. André Bilz is Team Leader Truck & Terminal Equipment at DACHSER, where one of his responsibilities is commercial vehicle procurement. Here he talks about the new technology and the importance of electromobility in the commercial vehicle sector.
Mr. Bilz, the topic of electromobility is becoming increasingly relevant. Now DACHSER, too, has electric trucks in its fleet. Why is this topic now so important?
The topic of electromobility is not only timely, but necessary. That's why DACHSER is taking a proactive, forward-looking approach to the issue. Some cities have already imposed strict restrictions that make it difficult for delivery traffic to enter the city center, so naturally, the transport industry will have to rethink its approach. But customers, too, are becoming more aware of how important it is to follow sustainable approaches. Today, it's an issue that concerns everyone.
Nevertheless, this topic is still in its infancy, relatively speaking. We have to work out a lot of things for ourselves, as there's often a lack of empirical data—for example, when it comes to the charging infrastructure or energy supply. Or how we deal with IT systems, such as load management systems for distributing network load or billing systems for delivering electricity to our subcontractors. Unfortunately, at present there are hardly any integrated solutions on the market that offer the necessary hardware and software components from a single source. These aren't separate issues, but are part of one holistic mobility concept. It's complex and requires a lot of coordination.
I was definitely excited to see that this past September, all the vehicle manufacturers at IAA Transportation—considered the leading trade fair for the commercial vehicle industry—were featuring alternative powertrain concepts. We're currently picking up considerable momentum here.
But sustainability is an issue for the industry as a whole. You can't do all that much as a single company; everyone has to pull together. It's also up to policymakers to create the right framework, as is currently the case with the subsidy programs. We must strive to be one of the innovation leaders. It's an exciting time to be involved in this fundamental technology shift.
DACHSER was involved in the development of the Mercedes eActros as the partner for testing the vehicle in practice. How did that go?
The topic of electromobility is not yet as widespread among commercial vehicles as it is among passenger cars, where there are already a large number of models. Many commercial vehicle manufacturers have only just unveiled their new models at the last IAA Transportation.
Commercial vehicle manufacturers have started learning along with us. We tested the vehicles developed by Mercedes-Benz on the road: Are the ranges and charging power okay? What about compatibility with charging stations? How are drivers and dispatchers coping with the changes? In 2019, we were able to test an eActros development vehicle, and we sent the engineers constant feedback from the field. This is how our empirical data was incorporated into the development process, and today, we are using one of the first vehicles to roll off the production line.
Do the electric trucks pass the practical test today? Here I'm thinking about ranges in particular...
Today's vehicles—including those from other manufacturers—can be used in such a way that reasonable ranges are now possible. By "reasonable" we mean roughly 300 kilometers, depending on terrain and vehicle load. That is absolutely sufficient for distribution. The drivers are satisfied with it, too. What is still very complex, however, is the issue of the charging infrastructure. We still have fundamental limitations that we are currently taking steps to address. Some of the transformer stations have yet to be converted or upgraded, for example, and this drives up costs.
Compared to conventional diesel vehicles, electric vehicles are still very expensive to purchase. However, the government funding programs are creating some important incentives in this regard.
André Bilz comes from the practical side of logistics and used to drive trucks a lot himself. Today, as Team Leader Truck & Terminal Equipment at DACHSER, he is in charge of sourcing technical equipment for the transit terminals and warehouses as well as procuring commercial vehicles. In this role, he has an excellent overview of the technologies in the commercial vehicle market. From his desk at DACHSER's Head Office, Bilz is responsible for providing branches with the most suitable vehicles for the job. He put the first all-electric eActros through an initial field test personally: he drove the electric truck from the Mercedes-Benz plant in Wörth on the Franco-German border to DACHSER in Kempten in southern Germany's Allgäu region—with no problems or stops for recharging.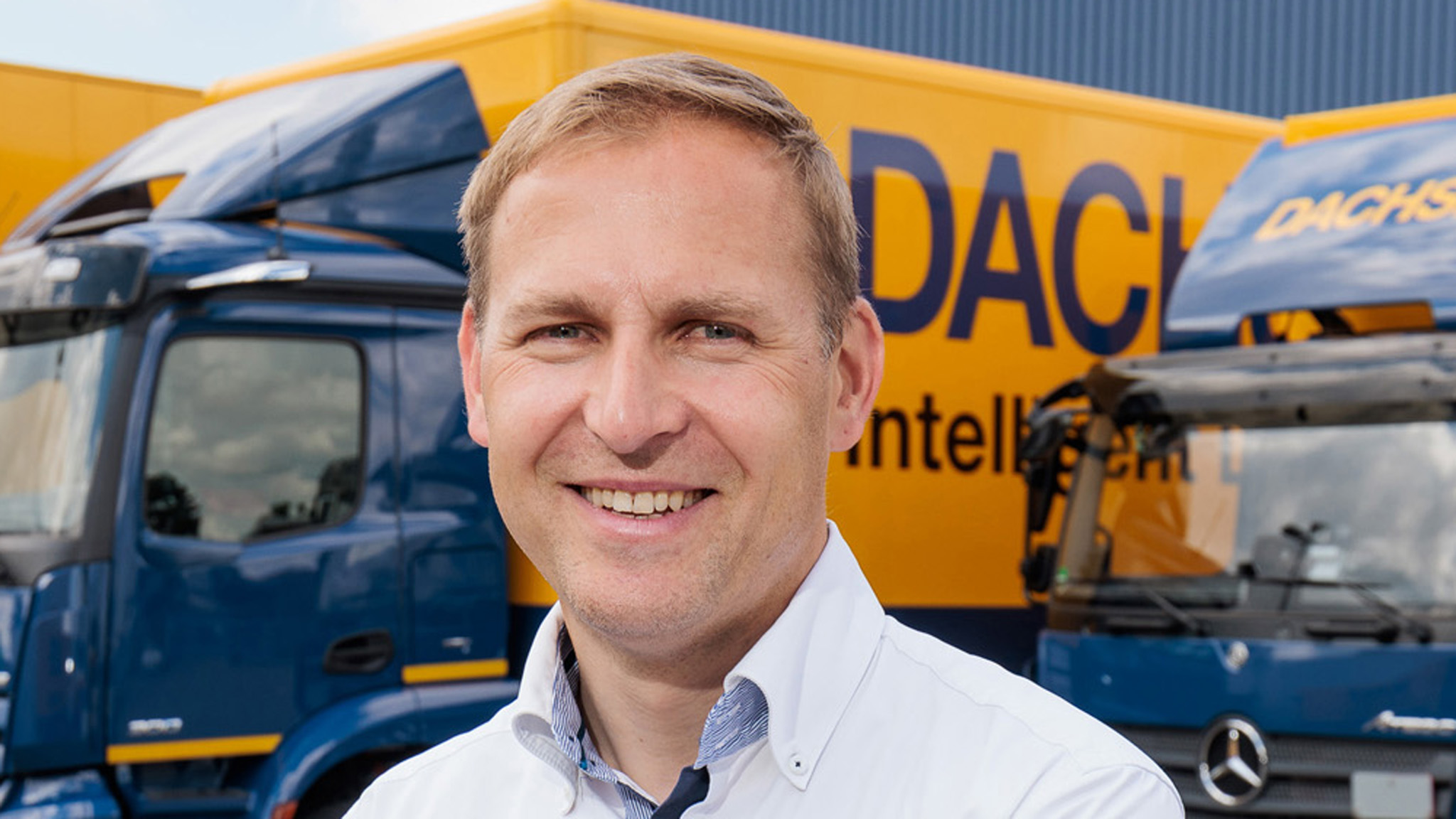 Interview with: André Bilz
André Bilz is Team Leader Truck & Terminal Equipment at DACHSER.